Doesn't He Look Smart!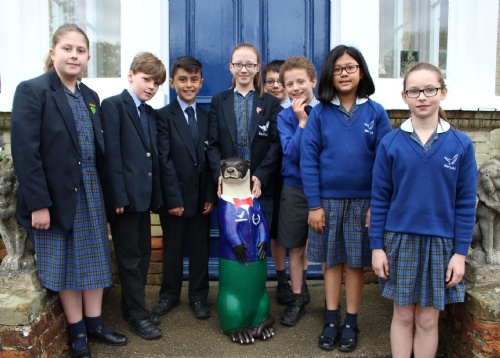 Our very distinguished visitor, The Barfield Otter, has now been completed by Mrs Lester and children in The Art Club.
He is now on his way to Hawthorns of Farnham where he will be on show for the month of May. The Lions Club of Farnham is launching The Otter Wey Trail in May, an initiative which involves local schools, community groups, artists and businesses all coming together to create a walking trail, in and around Farnham. Hawthorns of Farnham has sponsored one of the otters which has been decorated as Mike Hawthorn, a former pupil of Barfield School. Mike Hawthorn would have been extremely proud - doesn't he look amazing! Well done to Mrs Lester and the children for producing such a fine looking fella!
Do keep an eye out for details of the Farnham Town Walking Festival which will take place from 20 May to 3 June. There are a lot of wonderful paths, alleyways and countryside to explore.