Activity Camps
"Our OUTSTANDING Activity Camps take place throughout the year and provide children with a tailor-made, high quality programme of activities to motivate them and build their self-confidence whilst having fun in an adventurous, outdoor environment."
"My two children have just finished their first activity camp and have had an absolute blast. I can't believe how much excitement was packed into three days. Thank you!"
Children from Reception to Year 8* come to our week-long camps and enjoy a wide variety of sports, outdoor activities, and games in an active, fun environment. Our exhilarating and challenging adventure activities are enjoyed by all who take part.
Children participate in a variety of activities from High Ropes & Climbing to Quad Biking & Archery, whilst being looked after by our highly motivated and experienced team.
The camps run from 9:00 am to 4:00 pm with FREE early drop-off from 8.30 am, Our camps are currently £190.00 per week
And we offer a Late pickup service until 6.00 pm (Please note this is chargeable upon booking).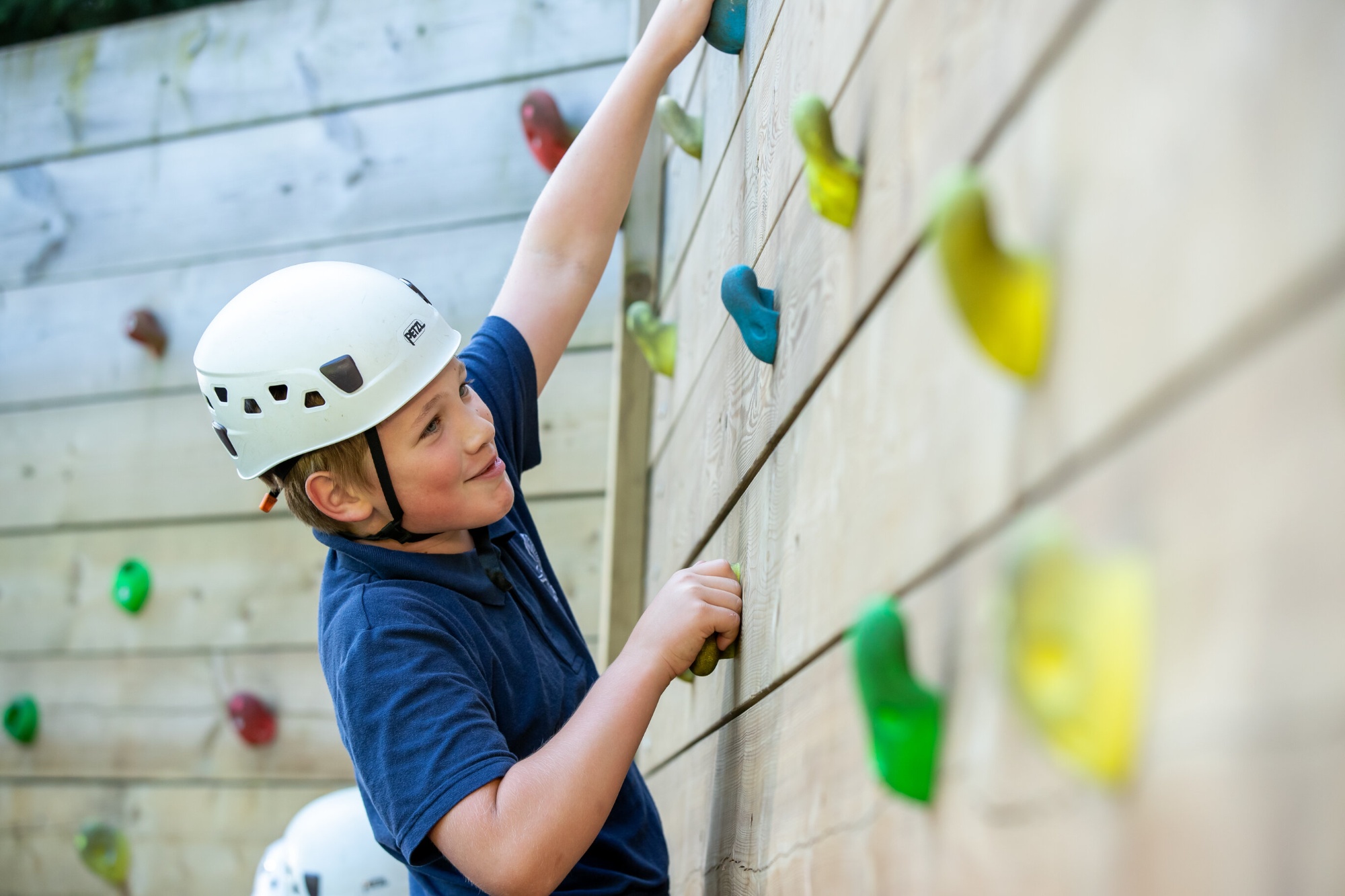 Please note:
*Age restrictions do apply to some of the activities. All activities take place here on site at Barfield school, except the Woodland Walk and some Shelter Building activities where we use the adjacent Runfold Woodland. Activities change from day to day and we can not guarantee that your child will do a specific activity,
We accept ChildCare Vouchers as a form of payment for our Activity Camps. Please see the Supplementary Information for further details.
Please note we are a Nut Free Camp, so please refrain from bringing such items.
Activity Camps
All of our Camps are week-long bookings and the children are within the same group for the full week with the same staff, this gives the children the opportunity to make new friendships and grow within the group whilst taking part in fun challenging activities.
Please Click on the Book Button to see a full list of the camps we are offering at the moment
Please note that we have recently changed our booking system. The first time you log in you will be required to create an account to make a booking.
To view Live availability that we have for our camps please use this direct link and select the camp you wish to check
All spaces for summer 2023 have now been release on the booking portal
Activity Camp FAQ's
Who Are The Camps Suitable For?
The camps are suitable for children who are currently in Reception - Year 8. All children attending the camps
are expected to change, toilet, and feed independently.
How Do I Pay?
All bookings must be accompanied by full payment. As part of the booking process, you can pay via debit/credit card or with childcare vouchers.
Can I Use Childcare Vouchers?
Yes. We accept childcare vouchers as payment for Holiday Activity Camps, Sports Courses, and Barfield School Night Camps. Please note we cannot accept childcare vouchers as payment for
Birthday Parties. You can indicate on the payment page of an online booking that you will be making a
Childcare voucher payment. Please reference Childcare Vouchers with your child's name and what the
Vouchers are being used for. A booking is not confirmed until we have received the payment.
All of our Childcare Vouchers are registered as either 'Barfield School', 'Barfield School Educational Trust' or
'Little Barfield'. We accept the following Childcare Vouchers:
| | |
| --- | --- |
| Edenred - Acct No. P20333857 | Allsave |
| Computershare Voucher Services Acct No. 0008095411 | Kiddivouchers |
| Sodexo Contract No. 161440 / Customer No 61709 | BusyBees Benefits |
| Midcounties Co-operative Employer Benefits | Fideliti Acct No. BAR139C |
| You At Work | Care 4 |
| Rascals | FairCare |
| Kids Unlimited Acct No 00465044 | |
Can I Change or Cancel My Booking?
Activity Camp bookings may be cancelled on the booking system by the account holder. If cancelled with 7 days' notice or more a credit note will be added to your account. For cancellations, within 7 days a credit note may be issued to your account at the management's digression.
Party and Event bookings, If you need to make changes to your booking please call us on 01252411776 and we will endeavour to accommodate any changes. However, if we cannot accommodate your changes, and it is less than 14 days
Prior to the starting date of the booking, we reserve the right to treat your request as a cancellation and
Charge the appropriate cancellation fee as detailed below for events and parties.
Cancellations must be notified 14 days prior to the event date. A 10% charge will be made to cover
Administration costs for cancellations 7–14 days prior to the event. A 20% charge will be made if a
Cancellation is made within 7 days of the event booking and a 50% charge will be made if cancelled within
24 hours notice. Cancellations must be made in writing to threepeaks@barfieldpst.org.
What If My Child / Member Of My Party Is Ill?
We reserve the right to charge as per our cancellation policy. But we will try our best to reschedule your event if we can
What Catering Facilities Are Available?
Your Birthday Party or Youth/School Groups booking includes the use of our Outdoor Marquee or School
Hall to feed your group. Please note this includes tables and benches but no other catering facilities. We
request that these facilities are left as you found them and provide cleaning materials for your use.
What Are The Minimum Ages For Activities?
We recommend that our Holiday Camp & Birthday Party activities are suitable for children in Reception and
above, however we do cater for younger children depending on their height and ability. It is a legal
requirement that children must be 6 years or over to use the Quad Bikes.
Does My Child Need Sun Cream?
In the summer months we ask that you apply sun cream before dropping your child off and provide sun
Cream that your child can apply if necessary. Staff will remind children at break times and help younger ones
if needed. It is also a good idea to send a broad-brimmed hat that shades the face, neck and ears from the
sun.
Do I/My Child Need Any Money?
No, there is no need for anybody to bring money.