New Hens On The Block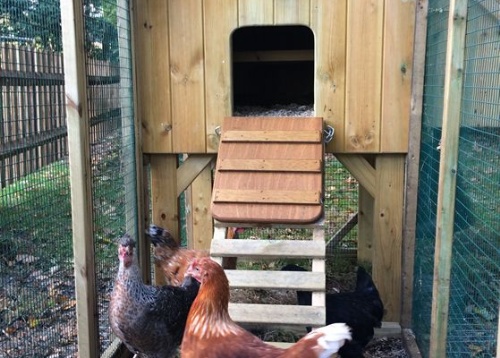 Four beautiful girls have taken up residence in 'Chickadilly'.
They are settling in really well and once they are more familiar with their surroundings, the children will begin to pay them some visits. Thank you very much to last year's Years 6, 7 and 8 for the wonderful donation of the house and to Ben Daunter and Freya Wilkinson, former Head Boy and Head Girl who chose the chickens at the weekend.
Allow us to introduce them to you:
Daffodil, a gorgeous white-tailed chatty hen, who has markings similar to flower petals.
Modge, a fascinating rare breed of hen, jet black, even the internal organs are black, and yet she lays pure white eggs.
Nando, our speckled hen, destined to cause us the most trouble - makes such a fuss!
Chapeau, aptly named due to its tuft on the top of her head, wonderfully calm and relaxed, grey in colour and lays blue eggs.