Barfield Friends Raise £5,000 for Woodlarks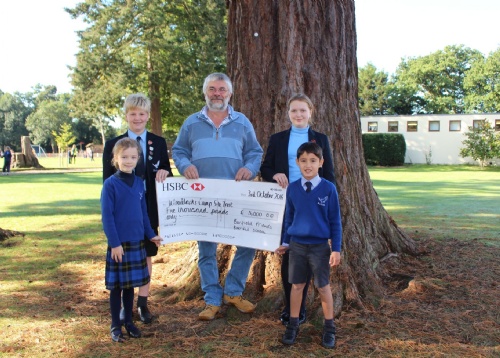 Pupils from Barfield were delighted to present a cheque for £5,000 to local charity Woodlarks Camp Site.
Woodlarks Camp Site was founded in 1931 to provide camping facilities for people with disabilities. Over the years, the volunteers who run Woodlarks have worked to provide facilities that enable specialist schools and organisations which support the needs of people with disabilities to camp, knowing that they will enjoy an outdoor experience. Visitors can camp under canvas, or if necessary, sleep indoors and access the modern welfare facilities that enable all aspects of an individual's care needs to be met with comfort, safety and dignity.
The money was raised by Barfield Friends, the school's Parent and Staff Association, which organises events for the benefit of children and their families, with the aim of having fun, fostering the family ethos of the school and raising money to benefit the school as well as local charities. The Friends had nominated Woodlarks to benefit from some of the money raised during the year and the money raised came from the Fun Run held in June and also from the auction held on the evening of the "Tropical Ball", when nearly 100 people enjoyed the sounds of a steel band, Brazilian dancers, a 3 course dinner and trying out a surf simulator. The Friends were delighted to present the cheque for £5,000 to Nick Richards.
Nick said, "I am totally amazed at how much has been raised. This was way more than we had hoped for. The generosity of the friends and families at Barfield has been exceptional. The funds shall go towards fully funding a new computerised dosing system for the therapeutic outdoor swimming pool as well as towards a new pool side shelter. Due to the high level of needs, many of our campers are unable to access swimming until they come to Woodlarks. We have all of the equipment to enable safe access in and out of the pool as well as new completely accessible changing facilities right next door to the pool. We would like to thank everyone involved in raising this fantastic amount. Your support really is very much appreciated by everyone here at Woodlarks".